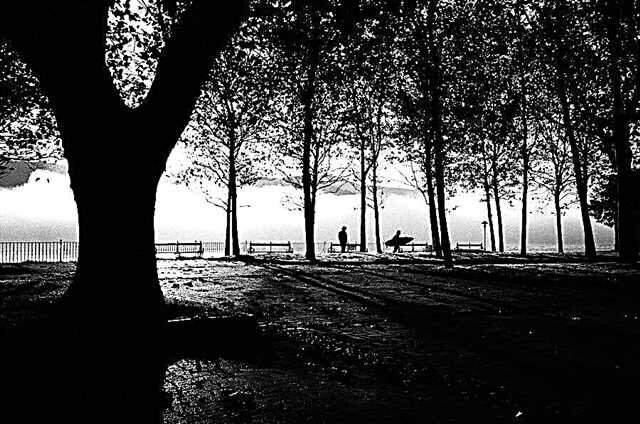 We are searching data for your request:
Manuals and reference books:
Wait the end of the search in all databases.
Upon completion, a link will appear to access the found materials.
Mundaka, the prized possession of Basque surfing, is on most every surfer's list to visit at some point. It had certainly been on mine, after years of seeing pictures and film of the big river valley which empties out into a stunning bay, with machine-perfect lefts peeling down the sandbar and an old village looking over, seemingly lost in time. It always looked like such a magical place and worth a visit regardless of wave-riding pleasures.
But when considering those pleasures, Mundaka has some x-factors — more than most places. It is a very fickle wave by nature, greatly affected by massive tides and swell directions. When Mundaka does come to its glorious life as one of Europe's, and the world's, best waves, it is often fiercely crowded. Having that air about it, it is a place many surfers dream about but don't get to — myself included, until this last winter when I made it to the legendary village and stepped back in time.

It is only a small harbor in Mundaka, and they make the most of every spare bit of space. It is still very old world, people going about their practices the way they have for ages. All photos: Author.
Only 30 minutes outside of Bilbao, the rolling hills and mountains of the Basque region ease into the river valley of Mundaka. The village cradles the west side of the bay, and just outside a natural harbor lies a sandbank that is a wonder of ocean symmetry. As I was planning my Europe trip, some whispers came my way that the Mundaka sandbar, which fluctuates often, was in perfect formation this year. I began developing the plan to go see for myself and got one simple piece of information from a friend: Go to Hotel El Puerto, get a top floor room. I pulled into town and did just that.
The Hotel El Puerto is the closest to the wave, with a tapas café on the ground floor which acts as a social epicenter of Mundaka. The sweet, shy girl managing the old 12-room hotel showed me the top floor room upon request. There wasn't another in the place that compared to it, maybe even in the whole village, because of this particular room's sheer proximity to the ocean and unhindered view over the harbor and wave. All the rooms in the place are comically small, but this one had just that extra bit of space to move around in. And out the glass balcony door a serene and stunning view unfolded over the majestic heart of the Basque surfing coast. She made sure I knew it was 20 Euros a night more than the other rooms. What I saw out that window the next 10 days, the bottles of wine and coffees I thoroughly enjoyed as I gazed away, pretty much made the upgrade priceless.

I knew there were great waves coming that week, which is why I ultimately ended up there at that moment. That is how I most enjoy travel in Europe, by staying flexible and following the surf country to country for a month or more. The waves came and perfection ensued. I developed such a smooth routine of coffees and tapas between surfs, leisure walks around the village, and hang-out time in the park just above the wave, another gathering point and epic place for evening beers. Surfers come and go, especially during a week of pumping surf like this. It's one of those places you never know who you will bump into, full of interesting people to interact with. Then I had that glorious elevated view to return to…I loved those 10 days I spent in the time capsule Mundaka village is.

1
Breakfast
I was loving this combination.

2
Morning mist
Some mornings the mist would hang in the valley and give the whole arena such an ethereal air.

3
Mundaka street
Small streets and alleys wind around the village. There are a couple parking lots, and once your car is there it pretty much stays.

4
Mundaka valley
Looking up the river valley

5
My view
Looking out from my room on one of the small, perfect days I was there for.

6
Overview
The afternoon Mundaka surf scene in full swing. This is my local friend Sancho on the wave, taken from my room at Hotel El Puerto.

7
Shadows
This was a quiet morning in the park, full of sublime beauty.

8
Skyline
Looking back on the village and park from the top of the point.
Watch the video: Un dia en Mundaka con QMV
---